I have decided to send in a Post Secret that relates to today. It is a secret, but not a serious one like something about rape, abuse or anything like that. It
does
relate to something serious, but only if gone about the wrong way.
I don't even know why it's a secret honestly. I bet this is how those anonymous senders felt when they sent in their silly secrets. Giddy. Excited. Embarrassed. And personally, wanting to tell everyone now.

But! I'll make the card and send it in, and if it doesn't go up on the site within a certain amount of time (I'll decide that later), I'll post it here anyway. :) This will be a great experience.

For now, here is a secret of mine 'written in someone else's handwriting'..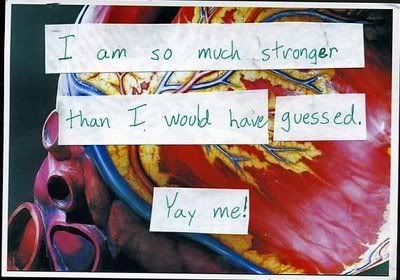 P.S. Everyone that started school today: Good luck! Have a great year!
Here's ONE more Post Secret for now, I just had to post it. This is so POWERFUL! You go girl!