I was just watching The Cosby Show and Theo was talking to his dad Dr. Huxtable about a note a girl passed him in class. Theo liked the girl, so he convinced himself that the
tittle
she dotted her "I" with was a heart. Dr. Huxtable pointed out that it was only a heart if you looked at it long enough. It fits perfectly in the theory that if you want to see something, you will.
Dr. Huxtable's statement was meant to point out that the tittle was actually just a circle. With humor-filled thoughts I wondered, who draws circles for tittles? I considered the few that have large, loopy handwriting must be the main offenders of this crime. The extra time it would take to draw circles for tittles—as carelessly as they might be scribbled— it just seems like pre-meditated time wasted that could be spent doing something else.
Personally, I think it's cute when people draw hearts instead of circles or the common dot for tittles. Within movies and conversation it's often ridiculed because people are conditioned to believe that it's immature. What makes it immature? Is expressing love immature? It sounds like another instilled idea of society. The only connection I see is that younger girls draw more tittle hearts than adult women, but the reason why has been aforesaid. I'll clearly express it again, society is convinced to believe that they should feel "bad" for drawing hearts.
I've done a variety of things with the way I write my name over the course of my literate life. One I significantly remember is that around my thirteenth birthday, I was obsessed with circling the "A" in my name to make it the symbol of
anarchy
. It's jocular now, my current opinion on anarchy is that it is completely absurd, a prominent sign of weakness, an excuse to selfishly do whatever you wish, and a cop-out for being a decent basic law following human being. I was only twelve-thirteen though, I didn't even possess a child's strength grasp on the concept of anarchy, so I let myself get away with that act of ignorance. At least it gives my parents a cute story to share with their grandkids.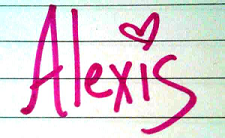 As if this weren't an obvious lead-up, I have decided I am going to strive to draw hearts for the tittle in my name. If I remember the concept for the rare times I write upon physical paper, I'll draw hearts in the place of every tittle.
I
d
o
n
o
t
s
e
e
i
m
m
a
t
u
r
i
t
y
i
n
s
h
o
w
i
n
g
,
e
x
p
r
e
s
s
i
n
g
,
a
n
d
s
p
r
e
a
d
i
n
g
l
o
v
e
i
n
t
h
e
s
i
m
p
l
e
s
t
o
f
w
a
y
s
.