(Originally quoted on June 10th, 2009. Posted to COSA18 on September 14th, 2009.)
I had a dream

This one I feel the need to mention

I was happy for awhile

And I

stopped

being scared and ashamed

To say what's on my mind

But you thought I'd change after awhile

And said "you'd better treat me different

or else

"

"Or else" seems like a stupid fucking thing to say to someone like me

Someone like me

Wow, wow, wow

Wow-wow-wow-wow-wow-wow-wow-wow…

Don't be surprised I can look you in the eye

It's hard to take you serious when you take me inside

Don't be surprised I can look you in the eye

It's hard to take you serious when you take me inside

I'm worse

Than what you think you'd catch from me

Complicated's understated

Did you stop and take a look at who you fell in love with?

At who you fell in love with

It doesn't matter

How many times I say it

That's why I have to say

Wow, wow, wow

Wow-wow-wow-wow-wow-wow-wow-wow…

It doesn't matter if you're going to come or just going

I never wanted you to come here anyway

There's a word that's like you

Because it can be a noun, a verb, a exclamation, or the

thing I say

When something is

unbelievable

When I'm not able to believe how unbelievably unbelievable

That you believe you could not be leave-able

That's when I have to say

Wow, wow, wow

Wow-wow-wow-wow-wow-wow-wow-wow…

It doesn't matter

How many times I say it

It never gets old

That's why I have to say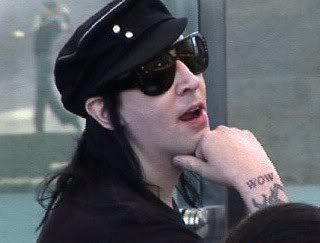 "I understand that you hear the first half as angry, I guess maybe I should look at it in a different way. I hear the second half of the record as threatening. The first half of the record is kind of angry, but it's bitter and it's weak and it's uncertain, which is where anger comes from, which is not where threatening comes from. There's a confidence that starts to rebuild itself, and I think that it starts right about the point of "WOW." That song sticks out to me enough that I got it tattooed on my wrist. I wanted to do a song that was everything that I had to remember represented who I am and why I started this in the first place.
It's funny to me because the first time I played the song, without any singing on it, because the music is so absurd. We just started recording it and I refused to let anybody try and do what they're supposed to do. I said, "Just hit record." I made Twiggy play keyboards, and I started playing guitar with one string on it, and I had a microphone and we got done and the first thing we said was "Wow." Well that's what it is. It's like the "Macarena" of nonsense and confusion, and it really represents something that we always strive to accomplish." - Marilyn Manson
Soon we will be twins.